Make Enterprise Facility Management Easy with Peazy

Are you tired of the traditional facility management companies' empty promises, lackluster service, and intricate processes? Say farewell to those frustrations and let Peazy take the reins. We simplify your enterprise's facility management by overseeing vendors and jobs, sparing you the hassle. Count on Peazy to manage your facilities, whether they're scattered far and wide or concentrated in one place. Our nationwide network and advanced technology have you covered, no matter the scale or distance. Discover a new era in facility management with Peazy!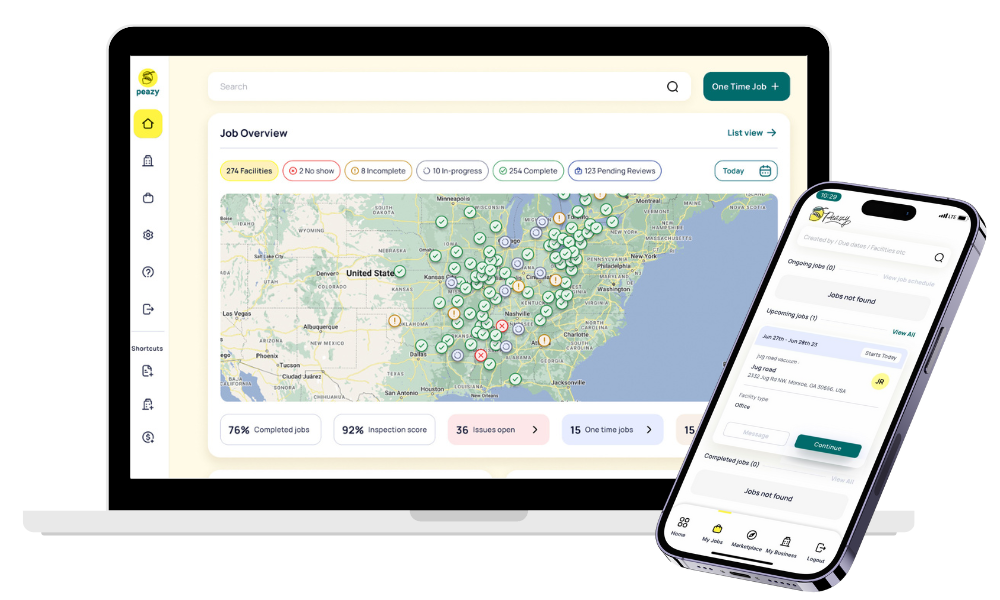 Empowering Enterprise Companies with Tailored Solutions
Peazy specializes in providing tailored solutions for enterprise companies seeking operational excellence in facility management. Our comprehensive suite of services is designed to add real-time transparency and accountability to your facility management process while connecting you with top-rated vendors who can meet your exact needs.
Industry Leading Technology
Quality assurance through the use of photo and video evidence and a proprietary inspection process - whether self performed or subcontracted out.
Geotagging technology to know exactly when and for how long the technician was on site for the job - with building access information only provided within a pre-set proximity.
Top-Rated Vendor Network
Thousands of peer-reviewed subcontractors coast to coast with ability to scale to meet the needs of your locations. Gives us the ability to make sure we protect your budget while delivering best in class service.
Real-Time Dashboard
No More Surprises. Our dashboard keeps you updated in real-time, sending early alerts so you can anticipate and address issues or no-shows no matter how many locations you have. Our easy to use web based platform allows you to see a map of your locations with their current status as well as a robust reporting section.
Mobile App
The team on the ground will have access to a cutting edge mobile app where they can check in and check out of their jobs. They will be able to complete tasks and upload video and photo proof of completion. This easy to use platform also ensures that building access is only given to those that have been scheduled for your location when they are within a pre-determined proximity to your building.
Why Peazy?
Expand the items below to see how Peazy for Enterprise is challenging the status quo and putting control back in the customer's hands.
Full Transparency and Insights

Gain complete visibility and insights into all locations with Peazy's dashboard. Know exactly what's happening at each facility, ensuring transparency and streamlined operations.
Vendor Management Simplified

Take control of vendor management with Peazy's intuitive platform. Easily onboard, evaluate, and collaborate with vendors, ensuring a reliable network of trusted service providers.
Quality Management Made Easy

Hold vendors accountable for their services with Peazy. Track performance, monitor progress, facilitate inspections and ensure adherence to service standards.
Real-Time Updates

Stay up to date with real-time updates on job progress, completion, and any issues that may arise. Peazy alerts your account manager with instant notifications and updates, allowing for quick actions. Allows the account manager to fix issues before you even know there was a problem.
Customizable Workflows and Automation

Tailor workflows to match your unique business processes and automate repetitive tasks. Save time, minimize errors, and enhance productivity with Peazy's customizable and automated features.
Streamlined Communication

Seamless Communication: Peazy offers built-in communication tools, making it easy to collaborate, share information, and address any concerns promptly.
Cost Savings

Optimize your costs with competitive quotes from qualified vendors for one-time jobs, track expenses, and make data-driven decisions to maximize cost savings.
Customized Reporting

Generate comprehensive reports tailored to your specific needs. Analyze key metrics, track performance, and identify areas for improvement with Peazy's customizable reporting features.
Supportive Vendor Community

Peazy is committed to fostering a supportive community for our vendors. We recognize the significance of their success, which is why we provide them with the essential tools and resources to enhance their business operations, facilitate scalable growth, and efficiently manage their teams.
Mobile Accessibility

Stay connected and manage your facilities on the go with Peazy's mobile app. Access key features, receive notifications, and track job progress from anywhere, anytime.
Dedicated Support and Training

Benefit from Peazy's dedicated support team and comprehensive training resources. Receive guidance, resolve issues, and maximize your utilization of Peazy's features to unlock its full potential.
Easy One-Time Job Management

With access to a robust vendor community, it also allows you access to competitive pricing for one-time jobs with top rated subcontractors. Simply put your request in and we will find the best vendor at the best price and take care of the job quickly.