Make Facility Management Easy with Peazy

Are you tired of chasing down service providers for your business's facility needs?
Say goodbye to the old way and hello to Peazy. Our easy-to-use app puts all your facility needs in one place, so you can schedule multiple services with reliable providers, all in just a few clicks. From plumbing that's humming to carpet that's stunning - Peazy has you covered. No more phone calls, emails or searching for vendors. Discover the new way to manage your facility needs with Peazy – reliable providers, hassle-free scheduling, and easy payments – it's that easy with Peazy!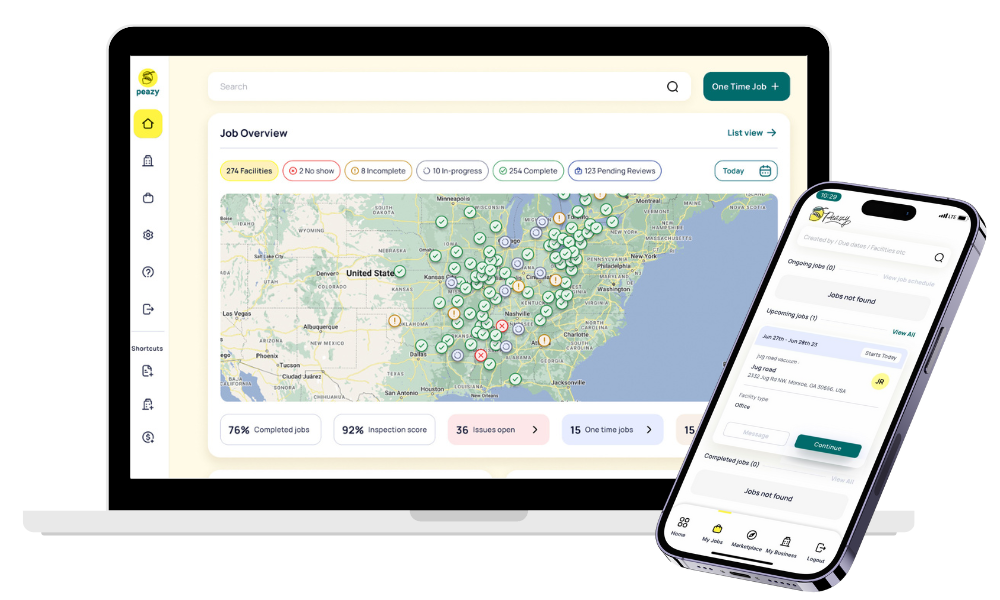 Stop scrolling endlessly-manage your facility in one simple app
Peazy's app will allow customers to create service requests within minutes using their computer or mobile phones, and receive competitive responses from multiple vendors. They choose the best bid and schedule right away. They can also track the progress of their requests from scheduling to billing, all using one simple app.
Industry Leading Technology
Quality assurance through the use of photo and video evidence and a proprietary inspection process - whether self performed or subcontracted out.
Geotagging technology to know exactly when and for how long the technician was on site for the job - with building access information only provided within a pre-set proximity.
Top-Rated Vendor Network
Thousands of peer-reviewed subcontractors coast to coast with ability to scale to meet the needs of your locations. Gives us the ability to make sure we protect your budget while delivering best in class service.
Real-Time Dashboard
No More Surprises. Our dashboard keeps you updated in real-time, sending early alerts so you can anticipate and address issues or no-shows no matter how many locations you have. Our easy to use web based platform allows you to see a map of your locations with their current status as well as a robust reporting section.
Mobile App
The team on the ground will have access to a cutting edge mobile app where they can check in and check out of their jobs. They will be able to complete tasks and upload video and photo proof of completion. This easy to use platform also ensures that building access is only given to those that have been scheduled for your location when they are within a pre-determined proximity to your building.
Why Peazy?
Expand the items below to see how Peazy for Small to Mid-Sized Businesses is challenging the status quo and putting control back in the customer's hands.
Full Transparency and Insights

Gain complete visibility and insights into all your locations with Peazy's dashboard. Know exactly what's happening at each facility, ensuring transparency and streamlined operations.
Vendor Management Simplified

Take control of vendor management with Peazy's intuitive platform. Peazy will onboard, evaluate, and collaborate with vendors, ensuring a reliable network of trusted service providers.
Quality Management Made Easy

Hold vendors accountable for their services with Peazy. Track performance, monitor progress, facilitate inspections and ensure adherence to service standards.
Real-Time Updates

Stay up to date with real-time updates on job progress, completion, and any issues that may arise. Peazy alerts you with instant notifications and updates, allowing for quick actions. Allows you to know even before you show up to the office if the work was done or if there was an issue.
Streamlined Communication

Seamless Communication: Peazy offers built-in communication tools, making it easy to collaborate, share information, and address any concerns promptly.
Cost Transparency

Optimize your building maintenance costs with competitive quotes from qualified vendors for recurring and one-time jobs. The platform allows you to track expenses and make data-driven decisions to maximize cost savings.
Customized Reporting

Generate comprehensive reports tailored to your specific needs. Analyze key metrics, track performance, and identify areas for improvement with Peazy's customizable reporting features.
Supportive Vendor Community

Peazy is committed to fostering a supportive community for our vendors. We recognize the significance of their success, which is why we provide them with the essential tools and resources to enhance their business operations, facilitate scalable growth, and efficiently manage their teams.
Mobile Accessibility

Stay connected and manage your facilities on the go with Peazy's mobile app. Access key features, receive notifications, and track job progress from anywhere, anytime.
Dedicated Support and Training

Benefit from Peazy's dedicated support team and comprehensive training resources. Receive guidance, resolve issues, and maximize your utilization of Peazy's features to unlock its full potential.