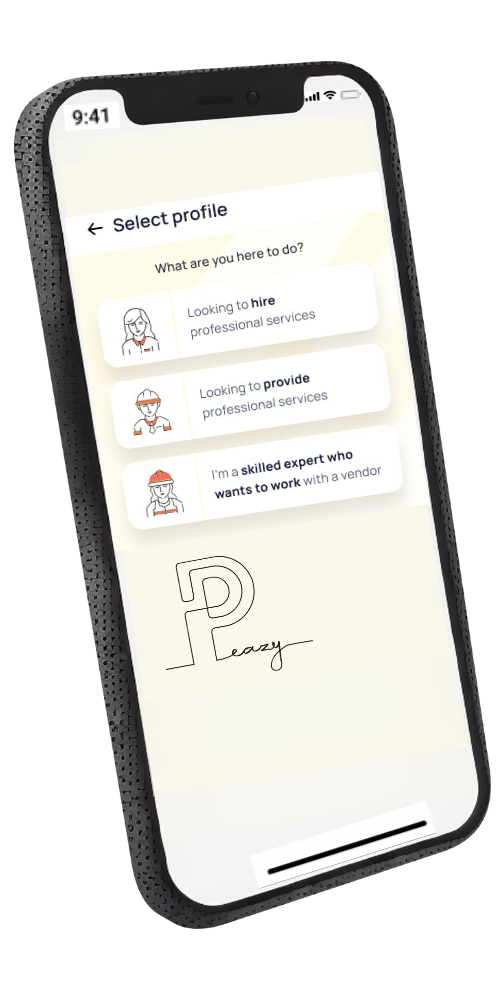 Peazy Does It
The Facility Management App That's Changing the Game Beyond Its Catchy Name!
I am a customer
I am a business owner, or help manage a business, that has a dedicated business address that's not a home.
I am a vendor
I'm a service provider or own a company that provides cleaning, HVAC, plumbing or electrical.
BETA LAUNCHING IN CERTAIN CITIES IN
Stop scrolling endlessly-manage your facility in one simple app
Peazy's app will allow customers to create service requests within minutes using their computer or mobile phones, and receive competitive responses from multiple vendors. They choose the best bid and schedule right away. They can also track the progress of their requests from scheduling to billing, all using one simple app.
DON'T JUST FOLLOW THE TREND, SET IT. BE AMONG THE FIRST TO DISCOVER THE NEW STANDARD OF CONVENIENCE.

Peazy customers:
Business Owners & Office Managers
Are you tired of chasing down service providers for your business's facility needs Say goodbye to the old way and hello to Peazy. Our easy-to-use app puts all your facility needs in one place, so you can schedule multiple services with reliable providers, all in just a few clicks. From plumbing that's humming to carpet that's stunning - Peazy has you covered. No more phone calls, emails or searching for vendors. Discover the new way to manage your facility needs with Peazy – reliable providers, hassle-free scheduling, and easy payments – it's that easy with Peazy!
Peazy vendors:
Janitorial, HVAC, Plumbing and Electrical Service Providers
Are you tired of chasing down customers and playing phone tag to see about your next job? Would you like some pre-qualified commercial jobs for you and your team? Discover the new way to manage your business needs with Peazy – reliable leads, hassle-free scheduling, and easy payments all in just a few clicks. From office suites to commercial buildings, getting new business has never been easier. Bid it. Get it. Bank it. Now that's Peazy
Manage your facility in one simple app